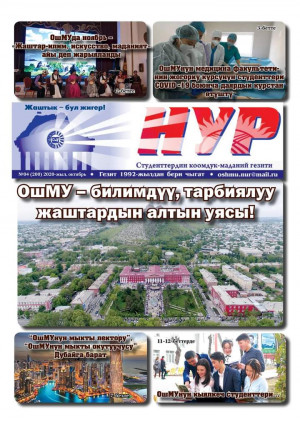 The student newspaper "Nur" was founded in 1992. Today, 8 pages, 3,500 copies in color and distributed free of charge to students.
The best journalists T. Aldakulov, member of the Jogorku Kenesh J. Akaev, director of Osh TV K. Kalykulov, journalist of "Azattyk" Nurmatov, poet U. Omokeev, poet Melis Mamatjan uulu worked at the newspaper "Nur".
The purpose of the student newspaper - University news, cultural events, information for students, works of students, anniversaries of teachers are constantly published. Announcements of the Unıversıty, the rules of the competition are published in the newspaper. An electronic version of the newspaper will be published on the official website of the university.
There are special sections for creative, talented, active, successful students ("Working student", "Successful student", "Talented student").
Editor: Duishonbek Bektemir uulu
Website of newspaper "Nur":
https://www.oshsu.kg/news/new/?lg=2&id_parent=953&id2=15026
Facebook: