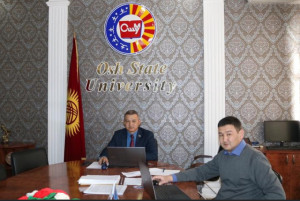 Education, likeany otherindustry, alsoexposedtochanges and new trends.Worldwide accepted fact that universities are the disseminators of new ideas, education models, innovative technologies and staying at the forefront of the development, opens ways to economic and spiritual growth of the society.TheOsh State's large-scale strategic goalsof transforming from classical to innovative research university and blending into world's TOP 700 universities fully meets its core development concepts, mission and vision. To ensure that these goals have been achievedthe Office of 'National and International Rankings'was created.
Its main mission includes, but not limited with:
Developmentandimplementationofactivitiestoblendthe university into international rankings;
Promoting the university in national and international rates, enhancing its indicators of international activity;
CooperatingwithinternationalacademiccommunitytobuildthestrongbrandofOshState;
Assistinengaginginternationalfaculty staffandstudents, including academic mobility program;
Establishingandmaintainingsustainablerelations with publicity, academy, business and other partners;
AnalyticalcoverageoftheOsh State's position in national and international rates and its dynamics.
Staff and contacts:
| | | | | |
| --- | --- | --- | --- | --- |
| № | Name | Position | E-mail | Phone |
| 1 | Erlan Kamalov | Head of office | erlan@oshsu.kg | (0772)750-705 |
| 2 | Maksat Totobaev | Inspector | maksat.totobaev@oshsu.kg | (0556) 171-181 |