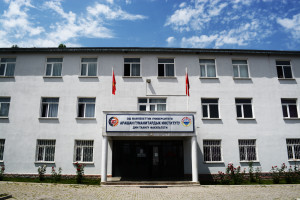 The Faculty of Religious Studies of the Arashan Humanitarian Institute at Osh State University has been teaching theology to students since the 2000-2001 academic year. In the 2017-2018 academic year, the College of Theological Vocational Secondary Education was opened at the Faculty of Religious Studies.
Education at the faculty and theological college is conducted in Kyrgyz and Turkish languages on the basis of a license and curriculum approved by the Ministry of Education and Science of the Kyrgyz Republic. The term of education is four years. The term of study at the college is 2 years and 10 months for those admitted on the basis of the 9th grade, and 1 year and 10 months for those admitted on the basis of the 11th grade. In total, it is designed for 200 students.
Mission of the faculty – To train truly patriotic professionals who have a deep knowledge of religion, respect national values, love their families and homeland, and contribute to the economic, scientific and cultural development of their country.
The purpose of the faculty – Deep education through the use of new teaching technologies, extensive use of information sources, the use of scientific advances and in-depth study of Islamic sciences in accordance with the specifics of our multi-religious country and the opportunity to study the history of religions and cultures.
Tasks of the faculty – Training of patriotic specialists with deep knowledge in the field of religion, respect for national values.
Specialties
№

Name of specialty

degree

Form of study

Duration of training

1

Theology

bachelor's degree

Full-time

4 years

2

Theology

(Base of 9th grade)

(Base of 11th grade)

secondary vocational education

Full-time

2 years 10 m.

1 year 10 m.
Departments
Name of Department

Head of the department

Contacts

E-mail

Department of Religious Studies and General Education Disciplines

Doctor of theological sciences Tagaev Mairambek Kudayberdievich

0778

81-19-45

mayrambekg@gmail.com
Faculty management
Job title

Name and Surname

Contacts

E-mail

Dean

Jusupov Mairambek Ganinovich

0700 12-87-83

0552 40-80-83

mayramcusup@gmail.com

Deputy Dean for Academic Affairs

Sebetov Jarkynbai Bazarbaevich

0706 66-49-86

0778 66-49-86

uzgents@gmail.com

Deputy Dean for Educational and Organizational Affairs

Sarbagyshov Buzurmankul Rapylbekovich

0771 54-15-94

0505 83-11-99

buzurmankul@gmail.com