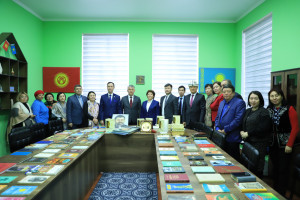 L.N. Gumilyov Eurasian National University constantly expands the scope of international cooperation. At present, partners of the Eurasian National University are more than 460 universities from 52 countries, among which there are universities of the Kyrgyzstan. So, cooperation with Osh State University began in 2022. On December 6, 2022, the official opening of the ENU branch - the center of the Kazakh language and culture at Osh State University took place.
The opening ceremony was attended by a delegation of the Eurasian National University headed by Vice-Rector for Science, Commercialization and Internationalization Affairs Zh. Kurmangaliev, Osh State University President K. Kozhobekov, Consul of the Republic of Kazakhstan in Osh M. Karibai, and OshSU academic staff and students.
MISSION. The main goal of opening a branch is to maintain unity and cooperation between the two countries, promote the deep education of young people in the field of education, opening of new specializations in the educational program of double diploma, and development of academic mobility program.
Along with this, the strengthening of professional partnerships between academic staff, the acquisition and exchange of experience, the organization of interdisciplinary conferences and seminars (webinars), round tables, master classes at the international level in online and offline formats.
Osh State University's first-year students who are majoring in "Russian Language and Literature" and "Translation Studies" currently obtain their education in the double degree programs. A double diploma program involves training students in first and second courses at Osh State University, third and fourth courses at ENU, and graduating with diplomas from both universities.
The Kazakh Language and Culture Center is designed to preserve the spiritual values and and provide an opportunity for Kyrgyz youth to study the Kazakh language, its literature, culture and history.
QUALITY. Training of highly qualified and competitive specialists who meet the requirements of the time and the modern labor market.
VISION. Evidence of the dynamic development of cooperation between the parties was the opening of a branch of Osh State University - the center of the Kyrgyz language and culture at the Eurasian National University on April 24, 2023, which was attended by the leadership of ENU, Kyrgyz diplomats and the Osh State University faculty headed by the OshSU president Kudaiberdi Kozhobekov.