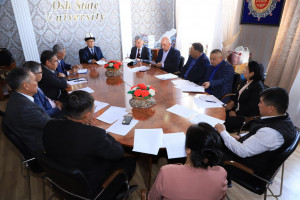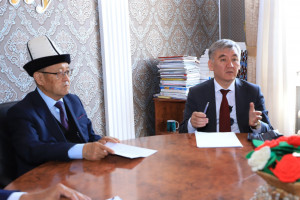 The purpose and duties of the Supervisory Board:
1. The purpose of the council is to promote the improvement of the efficiency of the provision of services, the transparency of the university's work, as well as the use of non-budgetary funds.
2. The duties of the Supervisory Board:
1) to facilitate the creation of conditions for the effective organization of the work of the educational institution;
2) to facilitate the achievement of the statutory goals and objectives of the university;
3) to facilitate the effective interaction of the educational institution with civil society organizations, and with international organizations;
4) attract additional sources of funding to the university that do not conflict with the laws of the Kyrgyz Republic.
Membership of the Supervisory Board:
| | | | |
| --- | --- | --- | --- |
| № | Name | Workplace | Position |
| 1 | Nurumbetov Baltagul | Assembly of People of Kyrgyzstan | Osh branch head |
| 2 | Abdykerimov Abdymanap | OshSU financial department | Leading specialist |
| 3 | Belekov Zhanek | Kyrgyz-Turkish Clinic in Osh | Expert |
| 4 | Ismailova Bumayram | "Education for all" fund | head |
| 5 | Kayimov Talantbek | Department of economics, finance and investment of the Osh Mayor | Department head |
| 6 | Kalykulov Kerimbek | S Ibraimov State Drama Theater in Osh | head |
| 7 | Kyshtobaev Orozaly | The Agrarian Minister of the Kyrgyz Republic. Osh branch | Sector head |
| 8 | Mahamadov Ahmatzhan | Statistic department of Osh region | head |
| 9 | Abdykadyrov Abdyrasul | " Kara-Kulja Bilim" education support fund | head |
| 10 | Omurov Nurlan | National expert | expert |
| 11 | Toychiev Chynybek | "RSK Bank" Osh branch | head |
ЖОЖдордо көзөмөлчүлүк кеңештерин түзүү боюнча буйрук