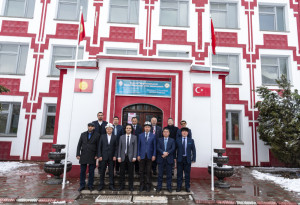 The faculty of Theology of Osh State University was founded in 1993 on the basis of a Contract (22.09.1993.) between the Turkish Foundation «Dianet» and OshSU. Faculty of Theology of Osh State University is one of the first faculties, which were opened in Central Asia.
From the 2012-2013 academic year, the faculty had trains of specialists in the field of "theology." On the basis of the contract of cooperation with Ankara University, the faculty teaches all subjects which show in the state standard of education of the Kyrgyz Republic and religious subjects considering features and specifics of the history of religion. The staff of faculty members includes scholars from the Universities of Turkey invited by the cooperation Contract and skilled lecturers of OshSU. 15 lecturers are working at the department of Religious Studies and Humanitarians, They include -1 professor, 6 associate professors, 2 senior lecturers, and 6 lecturers, including 8- doctors of science and 1 candidate of science.
The mission of the Faculty
In order to spread all the values of religion among the people, to train highly qualified staff and specialists using new teaching technologies, and improve the quality of education, which will respond to the modern requirements and contribute to the enriching of the spiritual world of humanity.
The purpose of the faculty
To develop human qualities in the student, the formation of general cultural and professional competencies in accordance with the state standard of education of the Kyrgyz Republic.
Responsibilities of the Faculty
Prepare specialists who are ready to continue studying the acquired scientific knowledge in the field of theology, as well as who can offer scientific solutions in religious matters. Prepare a specialist who is ready for expert activity, as well as who will meet the requirements of the relevant parties in all matters related to religion.
Specialties
1.

Theology (Bachelor's degree)

531600

Full-time education

4 years

Theologian

2.

Theology (College)

050717

Full-time education

11 base – 1 year 10 month

9 base - 2 years 10 months.

Theologian

3.

Theology (Master's degree)

531600

Full-time education

2 years

Theologian
Leadership
| | | | |
| --- | --- | --- | --- |
| Position | Full name | Phone | Email address |
| Dean | Azhimamatov Zailabidin | 0773430841 | |
| Deputy Dean for Academic Affairs | Zhusubaliev Ali | 0771271219 | |
| Deputy Dean for Research and International Relations | Abduganiev Asilbek | 0704848676 | |
| Deputy Dean for Educational Work | Zhumabaev Maksatbek | 0778589828 | |
| Chairman of the Educational and Methodological Council | Tazhibaev Sanzharbek | 0708973856 | |
| Responsible for the Master's degree | Kadyrov Mederbek | 0706055806 | |
| Head of Practice | Zuuridinov Oskonbai | 0706181895 | |
| Head of Chair | Kalberdiev Abdilaziz | 0707223232 | |
| Chairman of the Trade Union Committee | Masiraliev Shumkar | 0558080846 | |