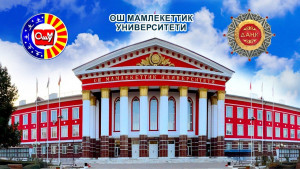 INFORMATION LETTER
Ministry of Education and Science of the Kyrgyz Republic
Osh State University (Osh, Kyrgyzstan)
Kazakh National Pedagogical University named after Abay (Almaty, Kazakhstan)
Andijan State University named after Babur (Andijan, Uzbekistan)
Chirchik State Pedagogical Institute (Chirchik, Uzbekistan)
Pomeranian Academy in Słupsk (Słupsk, Poland)
Institute of Geography. V. Sochava SB RAS (Irkutsk, Russia)
Biodiversity and Ecosystems Research Institute, BAN (Sofia, Bulgaria)
An international scientific and practical conference on "Sustainability of Mountain Ecosystems: Issues of Development and Conservation" dedicated to the "Year of Protection of Mountain Ecosystems and Climate Sustainability" will be held at Osh State University on October 19, 2022. The following thematic sections are accepted for reports at the conference:
1. Mountain ecosystem preservation and conservation as a component of ecological and spatial sustainability;
2. The preservation of biodiversity in the context of mountain ecosystem protection;
3. The use of chemistry and chemical technologies to safeguard mountain ecosystems;
4. Enhancing life quality and human health;
5. Transition to a green economy as a path to sustainable economic development.
Send a participation application as well as reports (articles) stating the section until August 1, 2022, to the organizing committee.
On October 19, 2022, in Osh, Kyrgyzstan
Location: Osh State University, Kyrgyz Republic Ministry of Education and Science
Address: 331 St. Lenin Avenue, Osh, Kyrgyz Republic.
Osh State University's scientific conference schedule
№

Название мероприятия

Дата начала

Организаторы

Инф. письмо

1

Международная научно-практическая конференция на тему "Приграничные конфликты в Ферганской долине: современное состояние и перспективы"

28 апреля 2022 г

ОшГУ, факультет, востоковедения и истории, кафедра востоковедения, НИИ востоковедения и отдел истории и культурного наследия института гуманитарных и регионалных исследований Южного Отделения НАН Кыргызской Республики

Международная научно-практическая конференция на тему "Приграничные конфликты в Ферганской долине: современное состояние и перспективы"

2

Международная научно-практическая конференция, посвященная 75-летию со дня рождения директора Центра лингвистических исследований,

профессора ОшГУ

Зулпукарова К.З.

"Ключевые приоритеты теоретического и прикладного языкознания в лингвоэтнокультурном пространстве Кыргызстана"

18 мая

2022 г.

ОшГУ, факультет русской филологии, кафедра русского и сопоставительного языкознания

"Ключевые приоритеты теоретического и прикладного языкознания в лингвоэтнокультурном пространстве Кыргызстана"

3

Международная научно-практическая конференция, посвященная 100-летию образования Горной Кыргызской области и 85-летию историка, к.и.н., доцента Д.Э. Эгемназарова

«Актуальные проблемы исторической науки: эпохи, личности, исследования»

20 мая 2022 г.

ОшГУ, факультет востоковедения и истории

«Актуальные проблемы исторической науки: эпохи, личности, исследования»

4

Международная научная конференция

27

мая

ОшГУ, МВШМ,

ВГМУ им. н.н. Бурденко,

УГМУ, ФИЦ питания, биотехнологии и безопасности пищи,

ИМППМ ФИЦ ФТМ, ГНУ "Институт физиологии НАН Беларуси",

БГМУ, ГП «Академфарм»,

БГМИ им. Абу Али ибн Сино,

АПО ФГБУФНКЦ ФМБА РОССИИ,

Ферганский медицинский институт общественного здоровья

5

Международная научно-практическая конференция «Архитектура цифровой экономики в поддержку реализации ESG-инициатив в практике предприятий и регионов Центральной Азии» посвященная 80-летию Купуева Пирмат Купуевича, видного ученого, доктора экономических наук, профессора, Заслуженного деятеля науки Кыргызской Республики, член-корреспондента Национальной Академии наук Кыргызской Республики

10-11 июня 2022 г.

АНО «Институт научных коммуникаций», ООО «ИНК-Групп» (г. Волгоград),

Консорциум устойчивого развития и технологического лидерства

ОшГУ

«Архитектура цифровой экономики в поддержку реализации ESG-инициатив в практике предприятий и регионов Центральной Азии»

6

Международная научно-практическая конференция

«Устойчивость горных экосистем: вопросы освоения и сохранения»

19-октября 2022 года

Ошский государственный университет (Ош, Кыргызстан)

Андижанский государственный университет им. Бабура

(Андижан, Узбекистан)

Казахский национальный педагогический университет им. Абая

(Алматы, Казахстан)

Поморская академия в Слупске

(Слупск, Польша)

Институт географии имени В.Сочавы СО РАН

(Иркутск, Россия)

Институт изучения биоразнообразия и экосистем БАН

(София, Болгария)

«Устойчивость горных экосистем: вопросы освоения и сохранения»