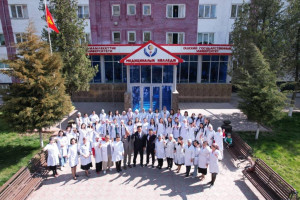 A brief history of the college
It was approved on May 31, 2002, in accordance with Decision No. 7 of the Council of Scientists of the Medical Faculty of Osh State University, and it was inaugurated on July 1, 2002, in accordance with the approval of the Ministry of Education, Science, and Culture of the Kyrgyz Republic. Osh State University changed its name on October 31, 2008, in accordance with the Ministry of Education and Science's decree No. 487/1, "On changing the names of secondary vocational education institutions."
From 2003 to 2012, the medical college was run by associate professor Sh.T Berkmamatov. In founding the medical college, Sh. T. Berkmamatov's contribution as a leader is great. On December 29, 2003, by the decision of the Academic Council of Osh State University, the college was changed to an educational institution under Osh State University and acquired a separate status.
From February 15, 2012, to June 2021, associate professor K. Sh. Attokurov became the head. Attokurov Kursantbek Sharabidinovich paid special attention to the educational work, and creative interests of students and made a great contribution to the opening of laboratory facilities of the medical college.
Starting from June 28, 2021, the medical college is headed by associate professor Arynov Zamirbek Saparbaevich. In the 2021-2022 academic year, the educational rooms for students and teachers were reconstructed, and modern simulators and necessary medical equipment were put up for tender. In the future, acceptable actions are being planned and implemented for students to get quality education.
Specialties
Title of specialization and qualification

Form of Study

Period of Study

060101

"Medical work" qualification - "Paramedic";

day time education

3-year 6 month

060102

"Obstetrical work"
qualification - "Obstetrician";

day time education

2 year 10 month

060110

"Laboratory disease detection"
qualification - "Laboratory technician"

day time education

2 year 10 month

060106
Orthopedic stomatology qualification-"Dental technician
day time education

2 year 10 month

060108

"Pharmacy"
qualification - "Pharmacist";
day time education

2 year 10 month

060109

"Nursing"
qualification - "Nurse"
day time education

2 year 10 month

060107

"Preventive dentistry"
qualification "Preventive dentistry"
day time education

2 year 10 month
Heads of the Subject-cycle commissions of OshSU
№

Title of Subject-cycle commissions
Full name

Phone number

email

1

Fundamentals of Nursing
Barynbaeva Ainura Abdykalykovna

+996777882622

abarynbaeva.75@mail.ru

2

Therapeutic disciplines
Jalalova Gulbarchin Turdalievna

+996559555755

gulya7111@gmail.com

3

Obstetrics and pediatrics disciplines
Kuchkarov Ulukbek Ibraimovich

0777441956

kuckarovulukbek @gmail.com

4

General medical disciplines
Orozaliyev Nurgazy Borubaevich

0771200979 0550010979

nurik-790901@list.ru

5

Natural sciences and exact sciences
Attokurov Kursantbek Sharabidinovich

0550212528

0220212528

kursantbekattokurov@gmal.com

6

Pharmacy disciplines

Kolanov Orunbek Kolanovich

+996772496417

Orunbek_k@ mail.ru
| | | | | |
| --- | --- | --- | --- | --- |
| 7 | Dentistry and surgical disciplines | Bataev Abdilashim Asanalievich | 0779919139 | Bataev-1981@mail.ru |
Structure
| | | | | |
| --- | --- | --- | --- | --- |
| № | Position | Full name | Phone number | email |
| 1 | Director | Arynov Zamirbek Saparbaevich | +996552995199 | oshgu.medkol@mail.ru |
| 2 | Deputy director for educational affairs | Torobaeva Danakhan Kalgozhoevna | +996552995199 | dtorobaeva@ mail.ru |
| 3 | Deputy director for upbringing affairs | Zhakypova Gulmira Mamadalievna | +996772 30 7836 | zhakypovag214@mail.ru |
| 4 | Deputy director for scientific affairs | Orunbayeva Bibigul Mamatovna | 0557007959 | B-orunbaeva@mail.ru |
| 5 | Head of practice | Tashmatov Azamat Manapovich | +996557456145 | Nobel1978@yandex.ru |
| 6 | Head of practice | Topchubaev Bekbolot Makhamatkarimovich | +996554 636 795 | Www.beko.95kg@mail.ru |
| 7 | Head of the department for clinical specialty | Tashiev Ruslan Azizovich | +996771 841 889 | ruslantashiev111@gmail.com |
| 8 | Head of Pharmacy Department | Askarov Medetbek Kahramanovich | +996773077171 | busanam.saipidinova1982@mail.ru |