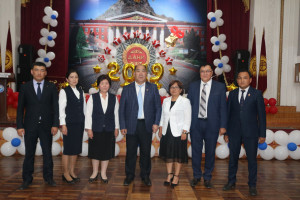 The aims of OshSU's ICTE are to change the teachers professional activities according to the needs of society and to improve the qualification of teachers.
OshSU's ICTE was opened by former rector K.A.Isakov's order of №654 on September 16th in 2015
The aims are to give an opportunity to teachers to be closely introduced with methodological, scientific - practical, pedagogical - psychological ways to solve current educational institutional problems and to supply the educational professional with modern technologies.
The head of Institute of Continuing Teacher Education is the condidate of pedagogical science, Docent ZhoroevTashbolotAbdykaiymovich.
T.Zhoroev supervises the following gymnasiums and lyceums.
The lyceum "Bilim" was approved by the Ministry of Education of the Kyrgyz Republic and was opened in 2012-2013 academic year by OshSu's former rector K.A.Isakov's personal initiative with the Ministry of Education of the Kyrgyz Republic.(order of №167/1 ,10.04.2013)The head of lyceum "Bilim"isBolushevZhoogazyn.
In September 2013, Osh State University based on the Charter of the University and the Ministry of Education of Turkey and Turkey's Diyanet foundation, opened "Yiman" Gymnasium. The current head of the gymnasium is TalantbekMamatov.
In 2018, on January 4th.The primary school was formed at the gymnasium "Yiman". Later,it was reformed as "Zirek" primary school centre and was separated on its own
OshSU's "Kara-Suu" , "Kara-Kulzha" , "Nookat" gymnasiums of OshSU were opened by OshSu's former rector and professor K.A.Isakov's initiative based on order of №438 , in 2018 , May 26th and according to tripartite agreement which was formed by Osh State University.
The staff of Institute of Continuing Teacher Education:
| | | | | |
| --- | --- | --- | --- | --- |
| № | Name | Title | Email | Telephone |
| 1 | ZhoroevTashbolot | Headmaster | Tjoroev@gmail.com | 0770 450 657 |
| 2 | ZainbidinkyzyTahmina | supervisor | musaevatahmina155@gmail.com | 0706 031 197 |