Bozhonov Zamirbek Sabirzhanovich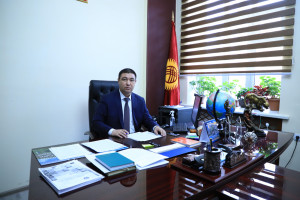 Personal information:
Year and place of birth: April 16, 1975, district of Kara-Kuldzha , Osh region.
Nationality: Kyrgyz,
Marital status: married
Education: Higher. From 1995 to 2004 he studied at the Faculty of Kyrgyz Philology of Osh State University.
WORK EXPERIENCE:
From 2002 to 2003 he worked as the chief editor of the student newspaper "Nur" of Osh State University.
2005 - 2008 he worked as an assistant to the rector of Osh State University for work with students.
2008 - 2016 Director of the Department of Education, Osh State University.
2016 - 2017 Vice-rector for social and educational work, Osh State University.
From July 20, 2018, Vice-Rector for Academic Affairs of Osh State University.
AWARDS:
Osh City Hall Certificate of Honor (2007).
Osh State University Certificate of Honor (2017).
MAIN AREAS OF RESEARCH: On January 17, 2018, he defended his Ph.D. thesis on the topic "Pedagogical conditions for organizing the educational activities of curators in the process of personal development of students." under the guidance of Doctor of Pedagogical Sciences, Professor D. Babaev.