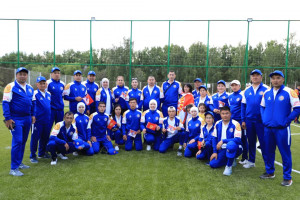 In accordance with Decision No. 5-7 of the Ministry of Education, Science, and Culture of the Kyrgyz Republic, the Physical Education Department was established on June 29, 1999, as part of the Faculty of Pedagogy at Osh State University, with the goal of educating highly qualified individuals in the field of physical education teachers and sports coaches.
According to Osh State University Rector's Order No. 181, the Department of Theory and Methodology of Physical Education and Sports was created on September 7, 2001.
This department was split into the Department of Physiology, Theory, and Methodology of Physical Education and the Department of Sports and National Games based on the Academic Council of OshSU's decision (protocol No. 7 of April 23, 2021).
By order No. 2584-FEA/22, Osh State University was given the opportunity to train specialists and became an independent "Physical Education" faculty on June 30, 2022.
MISSION OF THE FACULTY:
• Educating secondary school, lyceum, sports school, college, and university physical education instructors;
• Using new technologies to develop students' professional skills while supplying our country with contemporary physical education teachers and coaches.
Field of study at the faculty:
№

Code

Field

Qualification

Study form

Study period

1

532000

Physical education

and sports:

Bachelor's degree

full-time

4

distance

5

Master degree

full-time

2
Departments:
Name of the department

Head of the department

Contact phone number

Electronic

address

Physiology, theory and methodology of physical education

Kamilov R.

0553602290

Respect.rysbek@mail.ru

Sports and national games

Sabirov S.

0778030387

SSabirov87@mail.ru

No. 1 interfaculty physical education

Karabaev R.

0553079495

Karabaev.rashid@bk.ru

No. 2 interfaculty physical education

Kuluev B.

0557777711

Kuluevbakyt35@gmail.com
Faculty management:
Job title

Name

Contact phone number

Electronic

address

Dean

Rayimberdiev Yrysmamat Abdumanapovich

0777657515

Deputy Dean for Academic Affairs

Murzakarimova

Gulnara

Polotovna

0778022644

Deputy Dean for Scientific Affairs and International Relations

Zholdoshov

Askat

Zholborsovich

0778565457

Deputy Dean for Educational Work, Contractual Payments and Practice

Nyshanov

Zhoomart

Ainidinovich

0553848282