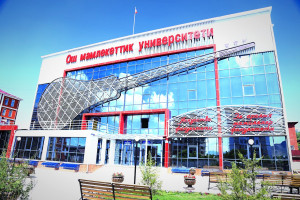 The history of the faculty begins in 1959, when the music and pedagogical faculty was opened as part of the Osh State Pedagogical Institute, reorganized in 1993 by orders of the Ministry of Education of the Kyrgyz Republic (No. 335/1 dated 06.08.) And the Rector of Osh State University (No. 83 dated 02.09.) Into the faculty arts.
Famous and musicians teachers such as K. Karabaev, A. Asanov, B. Abakirova, V. Grebennikov, V. Kirillov, K. Gumbina, A. Lengart contributed to the formation and further development of the faculty. Year by year, the faculty was headed by D. London, B. Apyshov, S. Nurova, S. Duishonaliev, T. Sarykov, A. Topchuev, N. Zhutanova, A. Kalykov, M. Abdugulov, B. Mambetaliev, I. Zhunusov, B Imetov, A. Attokurov, T. Akmatova, R. Filippova, K. Kurbanbaev. Currently, the dean is the candidate of historical sciences, associate professor N. K. Marazykov.
Faculty mission
The mission of the faculty is to train highly qualified, competitive specialists in the field of art, music, variety of art, and design, capable of applying in practice the achievements of new information technologies to meet the needs of this personnel both in the regions of Kyrgyzstan and in neighboring countries - Uzbekistan, Tajikistan, and Kazakhstan.
Faculty objectives
The objectives of the faculty are to train personnel with higher education in the field of art.
Faculty tasks
The objectives of the faculty are to provide high-quality education to future specialists in the field of art, music, pop, clothing and interior design, and to develop their creative abilities.
№

The code

Specialty

Degree

Form of study

Duration of training

1

550600

Art education:

- Musical art

- Art

Academic Bachelor's Degree (Music Teacher)

(art and design teacher)

daytime

4 years

2

570012

Music stage art

Variety orchestra leader (ensemble, performer, soloist, teacher)

daytime

5 years

3

570700

The art of costume and textile

Academic bachelor's degree (stylist)

day bachelor

4 years

4

570400

Design

Designer

On the basis of grade 11, bachelor day

4 years

Master's degree

5

550600

Master's degree:

Art education

Academic Master's Degree

Day, with the use of remote technologies

2 years

6

570700

Master's degree:

The art of costume and textiles

Academic Master's Degree

2 years
Faculty departments
Name of the department

Heads of the department

Contacts

Email address

Methods of Music Education, Theory, and Choral Conducting

Boronbaev Azhimamat

Zhusupovich

0771-75-40-79,

0552-16-61-31

Performing on folk musical instruments and singing

Moidunov

Zhenish

Tolonovich

0558-40-09-28

Drawing, sketching, and labor

Ismayilov

Mukhtar Zulpukarovich

0772-42-9-7-93

Design

Maksytova

Gulnara

Maksytovna

0555-64-91-94
Faculty leadership
Position

Name, surname

Contacts

Email

Dean

Marazykov Nurabidin Kamchievich

0773-557-677,

0550-828-722

marazykov@oshsu.kg

Deputy Dean for Academic Affairs

Gaparov

Ruslan Duishobaevich

0554-279-727

rgaparov@oshsu.kg

Deputy Dean for Scientific and Creative Work

Nurbaeva Ainura Kulmatovna

0556-024-436

anurbaeva@oshsu.kg

Deputy Dean for Educational Work and Contract

Jalaldin

uulu Aizatbek

0554-903-590

ajalaldinuulu@oshsu.kg

Chairman of the educational and methodological council

Mamazairov Mirlan Latipovich

0773-917-202

mmamazairov@oshsu.kg

Scientific Secretary

Dzhumabaev Bakai Samatovich

0779-090-991

bdjumabaev@oshsu.kg

Responsible for the magistracy

Abdyrasulova Rakhima Ravshanbekovna

0770-510-453

rabdrasulova@osh.kg

Practice leader

Usenbaev Esenbay

0774-324-775

usenbaev@oshsu.kg

Trade union chairman

Mataev Mederbek Aitibaevich

0559-687-775

mmataev@oshsu.kg