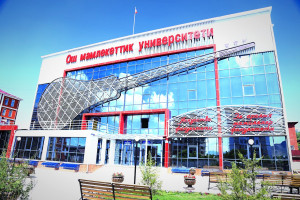 The Faculty of Arts at Osh State University has a rich and storied history that dates back to its inception in 1959. Since its founding as the Music and Pedagogical Faculty, it has evolved and expanded to become a leading institution in the field of arts education in Kyrgyzstan. Through dedication, passion, and a commitment to nurturing creativity, the faculty has played a pivotal role in shaping the artistic landscape of the region.
A Journey Through Time:
The roots of the faculty trace back to the Osh State Pedagogical Institute in 1959 when it was originally established as the Music and Pedagogical Faculty. Over the years, it underwent transformations, and in 1993, it was reorganized into the Faculty of Arts. This transformation was orchestrated through orders issued by the Ministry of Education of the Kyrgyz Republic and the Rector of Osh State University. This momentous change marked the beginning of a new chapter in the faculty's history, and it has continued to evolve and flourish ever since.
Pioneers of Art Education:
Throughout its journey, the Faculty of Arts has been fortunate to have renowned musicians and educators at its helm, who have been instrumental in shaping its identity and nurturing its growth. Esteemed individuals such as K. Karabaev, A. Asanov, B. Abakirova, V. Grebennikov, V. Kirillov, K. Gumbina, and A. Lengart have been dedicated pillars of the faculty. Their contributions laid the foundation for the formation and subsequent development of the faculty, leaving a lasting impact on the students and the cultural landscape of the region.
Mission and Objectives:
The Faculty of Arts is not just a center of creative education but a powerhouse of talent and innovation. Its mission is to train highly qualified and competitive specialists in the fields of art, music, variety of arts, and design. Graduates are equipped with the knowledge and skills to apply the latest information technologies, meeting the demands not only in Kyrgyzstan but also in neighboring countries like Uzbekistan, Tajikistan, and Kazakhstan.
The faculty's objectives revolve around providing high-quality education to its students and equipping them with the tools they need to excel in the realms of art, music, pop culture, clothing, and interior design.
Nurturing Creative Potential:
One of the key tasks of the faculty is to tap into the creative potential of its students and foster their development. Through dedicated teaching and a rich curriculum, it strives to bring out the best in its students, helping them to unleash their artistic talents and express themselves through various artistic forms.
In conclusion, the Faculty of Arts at Osh State University stands as a testament to the power of creativity and the impact of dedicated educators. With a rich history and a promising future, it continues to shape the artistic landscape of the region and nurture the talents of tomorrow. It is a place where creativity is nurtured, and artistic dreams take flight, making it a beacon of inspiration in the world of arts and culture.
№

The code

Specialty

Degree

Form of study

Duration of training

1

550600

Art education:

- Musical art

- Art

Academic Bachelor's Degree (Music Teacher)

(art and design teacher)

daytime

4 years

2

570012

Music stage art

Variety orchestra leader (ensemble, performer, soloist, teacher)

daytime

5 years

3

570700

The art of costume and textile

Academic bachelor's degree (stylist)

day bachelor

4 years

4

570400

Design

Designer

On the basis of grade 11, bachelor day

4 years

Master's degree

5

550600

Master's degree:

Art education

Academic Master's Degree

Day, with the use of remote technologies

2 years

6

570700

Master's degree:

The art of costume and textiles

Academic Master's Degree

2 years
Faculty departments
Name of the department

Heads of the department

Contacts

Email address

Methods of Music Education, Theory, and Choral Conducting

Boronbaev Azhimamat

Zhusupovich

0771-75-40-79,

0552-16-61-31

Performing on folk musical instruments and singing

Moidunov

Zhenish

Tolonovich

0558-40-09-28

Drawing, sketching, and labor

Ismayilov

Mukhtar Zulpukarovich

0772-42-9-7-93

Design

Maksytova

Gulnara

Maksytovna

0555-64-91-94
Faculty leadership
Position

Name, surname

Contacts

Email

Dean

Marazykov Nurabidin Kamchievich

0773-557-677,

0550-828-722

marazykov@oshsu.kg

Deputy Dean for Academic Affairs

Gaparov

Ruslan Duishobaevich

0554-279-727

rgaparov@oshsu.kg

Deputy Dean for Scientific and Creative Work

Nurbaeva Ainura Kulmatovna

0556-024-436

anurbaeva@oshsu.kg

Deputy Dean for Educational Work and Contract

Jalaldin

uulu Aizatbek

0554-903-590

ajalaldinuulu@oshsu.kg

Chairman of the educational and methodological council

Mamazairov Mirlan Latipovich

0773-917-202

mmamazairov@oshsu.kg

Scientific Secretary

Dzhumabaev Bakai Samatovich

0779-090-991

bdjumabaev@oshsu.kg

Responsible for the magistracy

Abdyrasulova Rakhima Ravshanbekovna

0770-510-453

rabdrasulova@osh.kg

Practice leader

Usenbaev Esenbay

0774-324-775

usenbaev@oshsu.kg

Trade union chairman

Mataev Mederbek Aitibaevich

0559-687-775

mmataev@oshsu.kg