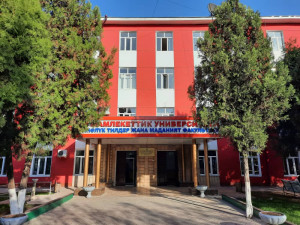 Choosing the right path for your education is a pivotal moment in one's life, a decision that holds the power to shape your future and open doors to exciting possibilities. If you are passionate about the rich tapestry of world languages and cultures, the Faculty of World Languages and Cultures at Osh State University is a beacon of opportunity, offering a vibrant and intellectually stimulating environment that empowers students to explore, engage, and thrive.
A Legacy of Excellence:
Established as one of the cornerstones of Osh State University, the Faculty of World Languages and Cultures has earned a distinguished reputation over the years. Its commitment to academic excellence, innovative teaching methodologies, and a strong emphasis on research has made it a focal point for students seeking to embark on a journey of linguistic and cultural exploration. The faculty has been at the forefront of producing thousands of highly qualified professionals who have not only excelled in Kyrgyzstan but also made their mark on the international stage.
A Hub of Expertise:
The Faculty of World Languages and Cultures prides itself on its exceptional teaching staff, a group of individuals who are not only passionate about their subjects but are also leaders in their fields. With a significant concentration of renowned scholars in the domains of philological education and linguistics, the faculty boasts an unparalleled intellectual potential. This diverse and dynamic faculty is a breeding ground for academic innovation and research excellence, providing students with the best guidance and mentorship.
Global Outlook:
In a world that is becoming increasingly interconnected, the study of world languages and cultures has never been more relevant. The faculty places a strong emphasis on preparing students to engage with the globalized world effectively. Graduates of the Faculty of World Languages and Cultures are not just language enthusiasts; they are global citizens who can bridge cultural gaps and facilitate intercultural communication.
Modern and In-Demand Education:
One of the hallmarks of this faculty is its commitment to delivering a modern and relevant education. It is designed to meet the demands of the 21st century, equipping students with the skills and knowledge needed to thrive in an ever-evolving job market. The faculty is dedicated to providing a nurturing and innovative learning environment that fosters the holistic development of students.
A Message from the Dean:
The Dean of the Faculty of World Languages and Cultures, Rakhat Zhumabaevna Sagyndykova, articulates the faculty's mission with passion and clarity: "Our mission is to build upon the rich traditions of our national higher education system while embracing the latest innovations in science and higher education. We aim to seamlessly integrate research, teaching, and educational activities, with a focus on producing well-rounded, competitive, and professionally responsible experts primed to meet the evolving demands of the Kyrgyz Republic and the global market. Our graduates will be equipped to bridge cultures and facilitate intercultural communication in foreign languages through teaching, translation, or business interactions. Additionally, we are dedicated to nurturing the civic and moral development of individuals in an ever-changing society through the effective organization and high-quality execution of the scientific and educational process."
Join the Journey:
In conclusion, the Faculty of World Languages and Cultures at Osh State University offers a unique and transformative educational experience. If you are passionate about languages, cultures, and global connections, this faculty is the place to be. It is a nurturing environment where academic excellence meets real-world relevance, and where students become global citizens who are poised for success in a rapidly changing world. Your journey of linguistic and cultural discovery begins here, at the Faculty of World Languages and Cultures. Unlock the world, unlock your potential.